Recent we reported courageous Pakistani Ex-Muslim Imran Firasat's petition to the Spanish government to ban the Quran. Many Muslims then called Imran stupid, and said the Government of Spain is not going to entertain your petition and that they will tear and throw your petition. Reader Muslim and Proud on website commented: "I think the government of Spain will take this muppet very seriously and they will ban the Holy Qur'an.........not."
But the skeptics and Islamic zealots were wrong. There's fantastic news for those, battling Islamic fascism. The Spain Parliament has officially admitted Imran's petition to ban the Quran. A letter from the Parliament of Spain informed Imran that they have admitted the petition and sent to the "Constitutional Commission" of the Parliament for deliberation on it.
Although we have to wait for the ultimate outcome of the petition, and an outright ban on the Quran is uncertain at this point, acceptance of the petition for consideration by the Spanish Parliament itself is a big step forward for those involved in the battle against Islamic fascism. Not many people would today believe that a parliament in a European country would even accept such a petition for consideration.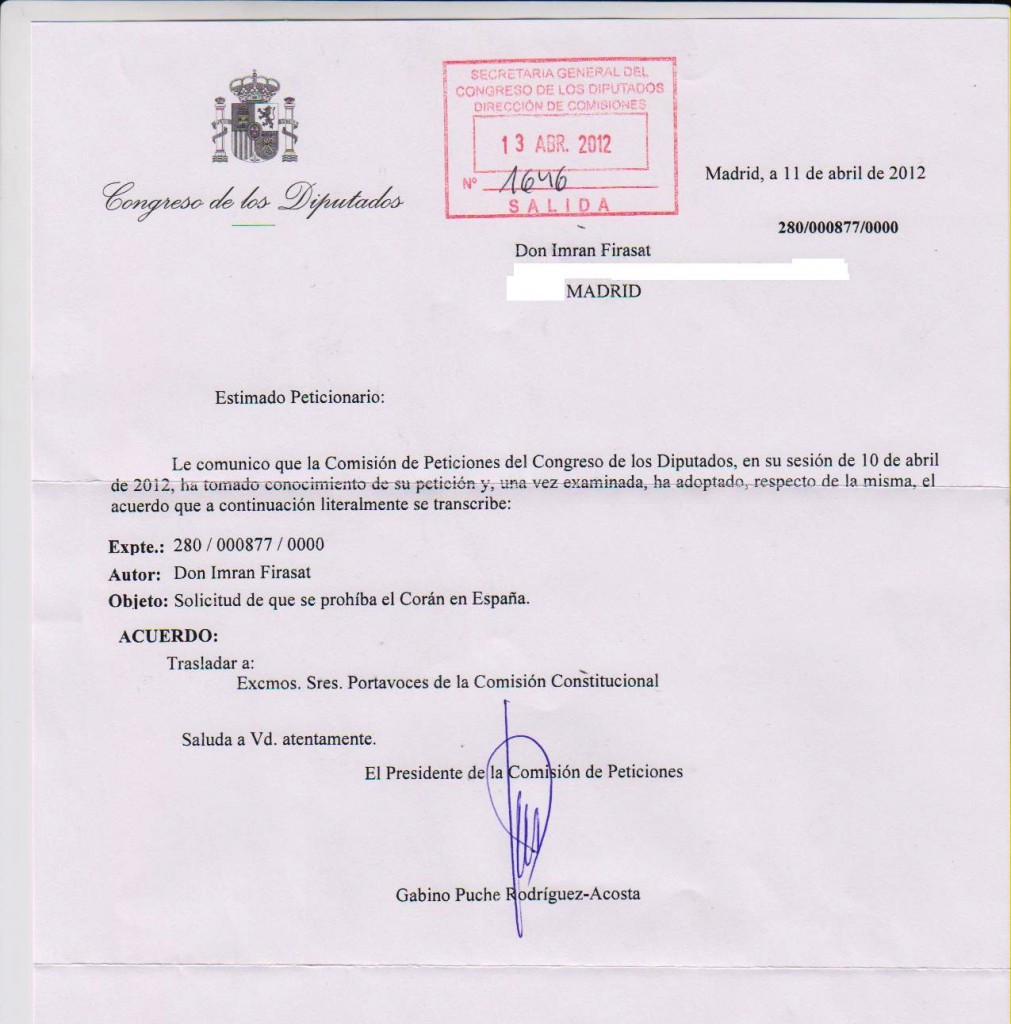 Letter from Spanish Parliament: Quran ban petition admitted
An outright ban of the Quran may not be on the card as yet. But acceptance of the petition for consideration takes us to the next level, a big leap forward, toward condemnation of the violent Quran. And credits for this would go to the Spanish parliament as much as it would go to Imran Firasat.
Information about this news-story can be found on these Spanish news sites:
La Comisión Constitucional del Congreso estudiará la petición de Imran Firasat de prohibir el Corán en España