Islam Under Scrutiny by Ex-Muslims
American Outreach Program: Bob Hopes Visits Jihad Camp
18 Aug, 2008
Beautiful Camp Jihad in Desolation Valley.
"This is Bob Mohammed Mohammed Hope here at Camp Jihad in beautiful Desolation Valley with troops of the Abu Hamza Allahu Akbar Death Brigade. Camp Jihad! Isn't this something? When I first started doing these shows Davy Crockett was wearing a coonskin cap. Times have changed! This modern Army is more culturally diverse than a barroom in Star Wars.
"Uncle Billy Sherman talked about war being hell but here in Camp Jihad all the talk is about Heaven. Instead of Mademoiselle from Armentieres it's 72 virgins in Paradise. That's my kind of war. I asked General Muqtada al-Sadr how he was fixed for blades. My courts-martial is tomorrow.
"This is the youngest bunch of GIs I've ever seen. I understand that instead of Spam they serve Pabulum at breakfast. Some of the kids look younger than Spanky and Alfalfa. I'm told diaper rash is a bigger problem than razor burn. I wanted to bring the Dixie Chicks.
(Silence)

"Don't all cheer at once…never heard of the Dixie Chicks? How about Sesame Street? Maybe I should have brought Darla in a short skirt. No cheers? Never heard of Darla? (Pause) General al-Sadr has just informed me that short skirts are verboten, but long nikabs are okay. I guess I haven't kept up with this diversity stuff.
"Men, you are some the youngest soldiers I have ever seen. When I was your age I was in junior high studying history and geography and civics and reading Lady Chatterly's Lover. The General tells me your education is not being neglected. You read from the Qur'an…what's the matter—isn't the Bible good enough for you."
(Boos and hisses)

"It's a joke! It's a joke! Boy, is this a tough crowd!
"I've been admiring the guns you boys are carrying. Sure beats the slingshot David handed my when I went off to see the elephant that first time. General al-Sadr tells me you are being trained to fire rocket-propelled grenades. I see one of your trainers has three school buses and a pizzeria painted on the side of his helmet. You can't beat an Army that maintains a good sense of humor. And I like your headgear, it may not keep a piece of shrapnel from shredding your brains but it's something Cosmo Kramer could wear to a New Year's Eve party. They remind me of the hachimakis Japanese suicide pilots wore in World War Two. An interpreter told me the headband says 'There is no God but Allah.'
(Silence)

"Did I make a wrong turn at Fort Bragg? This diversity is confusing. I should have talked to Charlie Heston before I accepted this gig.
"Everybody here at Camp Jihad wears camouflage uniforms. I tried one on yesterday and wandered over to the PX to get some goat's milk. The sutler said, 'What's the matter—Jihad Cola not good enough for you?' I asked Habib, the littlest soldier I had ever seen, why he was fighting. He said he was fighting for Allah. I said, 'Isn't Allah strong enough to fight for himself? Audie Murphy fought for Mom and Apple Pie.'
An older soldier—he must have been a non-com; he was old enough to shave—said I should be careful what I said, the Muttawa were everywhere. 'You mean the MPs?' I said. "No," he said. 'The Muttawa—the Committee for the Propagation of Virtue and the Prevention of Vice.'
(Silence)

"Don't all hiss at once…what do you have to do to get a laugh here? A little less virtue and a little more vice and I could have brought some dancing girls. You've heard of dancing girls, haven't you? Think of Paris Hilton in a short skirt, flashing her underpants…I told the sutler at the PX there was a hair in the goat's milk. He said I should thank Allah it wasn't some other part of the goat.
"Then a guy in a beard came by. He looked like Yasser Arafat. I asked him how he was fixed for blades. He must have heard the joke before He never even smiled. He said if I didn't pay the jizya I would have to leave. 'Jizya?' I said. 'What jizya?' The jizya Jimmy pays he said. He must have mistaken me for Jimmy Carter. I told him if he could rustle up a three-quarter pound hamburger and some fries I would give him a jizya, whatever it was, and maybe a kiss if he would scrape the stubble off his face…How much is a jizya in American dollars? Any of you kids know?
"Then he told me hamburgers were haram. Well, I was fresh out of harams and I didn't have a jizya to my name but I had a bag of pork rinds in my haversack and I started passing them out to the kids in the PX. That was when the MP showed up—one of the Muttawa. I was beginning to feel like Charlie Chaplin in Modern Times. The MP said my actions merited a fatwa. A fatwa? What is a fatwa?
(Laughter)

"Okay—now you're laughing. I'm going to have to talk to the President about this cultural diversity stuff. The MP said I was under arrest because pork rinds were haram! Haram? That word again! I told him he couldn't arrest me. They were my pork rinds. They were a dollar a bag! I bought them at Fort Dix and if I wanted to give them away it was my business. The MP said what I was doing was tantamount to a gay guy giving the AIDS virus to his partners!
"Well, that was yesterday. I shed that camouflage uniform and here I am. They are still looking for me. They really know how to play a practical joke here at Camp Jihad. Not as bad as Colonel Custer sneaking a dead Indian into your tent but scary enough. I got a few pork rinds left. If you want any—help yourself. Pork rinds are one of George Bush's favorite foods.
(Metallic clicking sounds)

The story of Islam…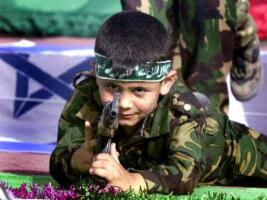 Wasted lives, stolen youth, calcified brains...
"Hey! Hey! Careful where you point those guns, kids! They could be loaded!
"Was that a bee that just zipped past my head? I hope it was a bee!
"Oh, oh, here comes that MP with a half dozen Propagators of Virtue and a dozen Preventers of Vice! Just like the Keystone Kops! I wish I were back in Pebble Beach! This is the last time I will take a job recommended by Grover Norquist!
(Allahu akbar! Allahu akbar!)
"Fellas! Fellas! Can't we talk this over? I'm not Rodney King! This is worse than Abbott and Costello Meet Frankenstein! I was on the road with Crosby from Singapore to Hong Kong and nothing like this ever happened! This is ridiculous! I'm running out of quips! Can't we put down the guns and swords and play patty-cake? "
*****
(Wake up, Bob, wake up! You're having an earthmare! Quick! Somebody fetch Saint Peter!)
---
Denis Schulz was prospective convert to Islam (read his testimony: How I Almost Became a Muslim?) before changing his mind after the 9/11. He actively writes on the threats of Islam and terrorism.
---
---
Name: Islam virus should be eliminated from the earth
Date: Monday August 18, 2008
Time: 03:38:33 -0700

Comment
Islam virus should be eliminated from the earth. See how innocent boys are being wasted their beautiful lives in terrorism. Islam should be soon eliminated. Just spread the truth about islam and its fake stmts of satan.That can kill islamic virus
---
Name: The Israeli - Palestine problem:
Date: Monday August 18, 2008
Time: 04:17:13 -0700

Comment
There is a fundamental rule that firefighters use: it is always easier to quench a fire if the source of fuel is first turned off. In the Middle East, the Israeli - Palastine conflict is fueling much of the anger, instability, unrest, distrust, hostility, and feelings of victimization in the region. The U.S. is seen as favoring and supporting Israel. They have given over three billion dollars a year in military and economic aid to Israel. The lack of a peace settlement, the continuing expansion of Jewish settlements in occupied lands, the status of the Dome of the Rock at the Temple Mount in Jerusalem -- the third most sacred spot in Islam -- and the status of the Muslim section in East Jerusalem are major flash points. On 2001-SEP-28, the Infatada (uprising) by the Palestinians against Israel passed its first yearly anniversary. It has resulted in the deaths "of 647 people on the Palestinian side, 177 on the Israeli side," and the wounding of many thousands. "Over the past year,International TV stations have broadcast countless pictures of Israeli soldiers shooting at Palestinian youths, Israeli tanks plowing into Palestinian homes, Israeli helicopters rocketing Palestinian streets." The Late Rafiq Hariri, the prime minister of Lebanon commented: "You see this every day, and what do you feel? It hurts me a lot. But for hundreds of thousands of Arabs and Muslims, it drives them crazy. They feel humiliated." The ratio of Palestinian to Israeli deaths has been relatively constant at 3 to 1 ever since. So can Syria be blamed for the death of the Late Rafiq Hariri? No The blame falls on Israel. The reason is because no head of state can critisice Israel!
---
Name: caleb singh
Date: Monday August 18, 2008
Time: 05:38:26 -0700

Comment
the root of the problem lies in islamic intolerance of other cultures and civilization to a mohemmedan islam stands first and all other identities are secondary .truth be told it is not only palestine see the problems in kashmir, checnya phillipnes, nigeria, china and thailand. even if palestine is handed back to the mohammedans they will not stop their goal is world domination their philosophy is murder ,pillage,and plunder what more can you expect when their satanic prophets philosophy is i was made victorious by terror the mohammedans have lot to learn to be civilised and tolerant of others cultures and religions
---
Name:
Date: Tuesday August 19, 2008
Time: 07:47:32 -0700

Comment
The root of all problems began after the End of world war2. In 1948 when Israel was created/ NOT islamic intolerance of other cultures and civilizations
---
Name: caleb singh
Date: Tuesday August 19, 2008
Time: 22:55:31 -0700

Comment
koran the lies behind it origin explained further from these materials http://www.theatlantic.com/doc/199901/koran http://www.theatlantic.com/doc/199901/koran/2 http://www.theatlantic.com/doc/199901/koran/3
---
Name: caleb singh
Date: Wednesday August 20, 2008
Time: 03:35:30 -0700

Comment
murderous and monstrous islam attack on india http://www.flex.com/~jai/satyamevajayate/index.html
---
Name: You Muslims should hace accepted peace with Israel
Date: Friday August 22, 2008
Time: 10:53:50 -0700

Comment
Muslims in palestine should have accepted peace when they were offered a palestinian state by Ehud Barak. Since you did not accept this offer and atarted sending suicide bombers the israelis elected Ariel Sharon - a hardline Jew who built the wall around west bank. Why dont you get it into your heads that you cannot defeat israel through violence and suicide bombers. If you have a superior economy , more educated people, a more progressive society the Israelis will have to make peace on your terms. The society which is economically more prosperous and technologically advanced always wins. As long as you muslims stick to islam you will be a backward society as Islam prohibits freedom of thought and expression. Evryone in the world has made progress except islamic societies.
---
Name: Re-You Muslims should hace accepted peace with Israel
Date: Sunday August 24, 2008
Time: 20:19:22 -0700

Comment
Once the documents of peace were studied the Isralis wanted to have Ehud Barrak removed, so that the continueing violence will exist. The world wants Palastine weak. Thats why they will not draft a peace treaty with Israel and Palastine. Who benefits from the conflict? The Zionist arms manufatorers of course. If peace exist in this world, we will not need weopens for mass destructions. Who will be the losers then? of course the Zionist arms manufatorers.
---
Name: Israel and muslims
Date: Wednesday August 27, 2008
Time: 11:51:38 -0700

Comment
Why is it that 10 million jews have more influence than 1 billion muslims? Judaism had enough flexibilty to adapt to changing circumstance. Islam is so inflexible that they cannot change. There are so many restrictions in islamic society that it cannot progress. The result - 1 billion muslims are fighting a loosing battle against 10 million jews.
---
Name: First of all, Mr. Schultz...
Date: Wednesday August 27, 2008
Time: 22:04:23 -0700

Comment
A VERY CLEVER ARTICLE! I AM SURPRISED THAT NO ONE HAS REALLY COMMENTED ON THAT! Now, for the islamists who say that the "zionist" media goes all over the world,NONSENSE! Israel is a little country that has people who hate it all over the world. The Caananites, after their exodus to the Promised Land that Yaweh God promised them, came thousands of years earlier than 622 ad when mohammed created islam. Israel has ONLY attacked when provoked, unlike islamists who blow themselves up all over the world. The Bible foretells even a greater blow to Israel than the holocost(which, Mein Keimph(sp?) is a best seller in some muslim lands) BUT God Almighty will save the remnant of Israel after they are attacked by Russia and the surrounding Islamic countries!(Ezekiel 38-39). Islamists, you may not believe this now, but you WILL when Christ the Son of God(He said it Himself:John 3:18, etc) comes and saves Israel from destruction. My best advice: accept Christ as your Lord and Savior so that day won't be horrible to you!
---
Name: Why Israel can successfully defence against Giant Monster Islam
Date: Thursday August 28, 2008
Time: 07:56:49 -0700

Comment
That's not because of Proxy which is used for XXX movie..you idiot thoughts....It's because Israeli Jewish and US ( Baptist ) Christians soldiers sacrifice too many lives and attack To Giant Islam Army...while Western Europe & Others Christians Countries are hidding their ass in safe house and Paralyzed with Fear to Islam, Remember EU & Other Christian Countries, Israel & USA is our last Defense wall...If they lose...you better suicide yourself ..because EU Is Islam next target...idiots...you all think islam is nothing concern with you??? TOTALLY WRONG...QUA'ran said," Kill All non-Muslims until they fully converted or until there is no one left against Islam...see, whether you are buddhist or, christians, or jews, or chinese or, negros or , hindu or confucius or gay, surely you will be killed by Islamic Muslims because you didn't worship their Allah...Use your brians friends... The only Question why Israeli won against Islam? the only Answer is GOD is with us.....Enough?
---
Name: Clever article, Mr. Schultz!
Date: Thursday August 28, 2008
Time: 20:36:24 -0700

Comment
AND, AS FOR THE COMMENT ABOVE. HOW TRUE! I DON'T THINK ANYONE REMEMBERS BUT A TRUE STORY: DURING A WAR WITH THE SURROUNDING ARAB NATIONS I BELIEVE IT WAS DURING THE 6 DAY WAR, NOT SURE A SWARM OF BEES ATTACKED THE MUSLIMS HELPING ISRAEL. GOD WILL ONCE AGAIN HELP ISRAEL WHEN MANY OF THE ARMIES(MOSTLY MUSLIM) GATHER AGAINST ISRAEL(SEE EZEKIEL 38-39).
---
Name:
Date: Thursday August 28, 2008
Time: 21:10:17 -0700

Comment
The six day war was not an Islamic war Against the Zionist, but a political one. When an Islamic war starts God will guide the believers, Like he guided Prophet Jesus.
---
Name: Evil Root & Evil Fruits....
Date: Friday August 29, 2008
Time: 03:33:19 -0700

Comment
Jihadist Terrorist are Fruits , Islam is the Root. Whenever you destroy only fruits , it will never be end. Cause' The Root of Terrorism( islam ) will produce much more fruits(Terrorist Jihadist).The Problem is not with Musims, The Problem is islam Virus which transmitted to Human Brains by Qua'ran Book. So If we all want Peace without Jihadist Terrorist. All you(we ) have to do is To wide out the Root (islam). Without the Root of Terrorism (islam) . There will be no terrorist anymore. GAME OVER.
---
Name: WRONG!
Date: Friday August 29, 2008
Time: 05:25:23 -0700

Comment
THE 6 DAY WAR WAS THE SURROUNDING MUSLIM COUNTRIES THAT INVADED ISRAEL. GOD CAME TO ISRAEL'S DEFENCE AND WILL DO SO AGAIN!AND, WHEN YOU STAND BEFORE HIM AFTER YOU DIE, YOU WILL KNOW THAT CHRIST IS GOD AND NOT A "PROPHET."
---
Name: IF YOU WANT TO KNOW TRUE ISLAM...
Date: Friday August 29, 2008
Time: 05:28:38 -0700

Comment
JUST LOOK AT THE PROTESTS MUSLIMS DO AND THE SIGNS THEY CARRY. LIKE THE RECENT ONE IN LONDON WHERE MUSLIMS CARRIED SIGNS THAT SAID THINGS LIKE:1)SLAY THOSE THAT INSULT ISLAM.2)BUTCHER THOSE WHO INSULT ISLAM.3)BEHEAD THOSE WHO INSULT ISLAM.4)EUROPE WILL PAY. 9/11 IS ON ITS WAY. 5)FREEDOM GO TO HELL. TRY AS YOU MAY, ISLAMIST, YOU CAN'T DENY YOURSELF OUT OF THIS ONE!!!!!!!
---
Name: AGAIN, MR SCHULTZ...
Date: Friday August 29, 2008
Time: 05:31:19 -0700

Comment
CLEVER ARTICLE.
---
Name: GOOD ARTICLE AND...
Date: Saturday August 30, 2008
Time: 17:01:14 -0700

Comment
Good article Denis and I hope everyone is also able to see under the article,"The History of Jihad against Austria" where a muslim man boasting of the marriages of muslims to non-muslim women in the west calls western women "western slut girls." see it for yourself!
---