In the Quran, there is no word for marriage. The only word used is nikah, which means 'having sex' or 'sexual intercourse' in Arabic.
Islam's whore-house for men
WIVES IN ISLAM
According to Quran a wife is some one with whom you have sex with. 
Different types of wives are:
A paid wife with an open ended contract (House wife)
A paid wife with a fixed term contract (Muta wife)
A paid visitation only wife with a visitation contract (Misyar wife)
Slave girl (bought gifted or captured)
The price paid for vagina is called Mahr. Thus according to Quran a contract wife is like a whore  who gets paid for her vagina called Mahr while a slave girl wife  is like a whore who does not get paid a Mahr for her vagina.
Q 4.24: Seek out wives by means of your wealth, and give those with whom ye have cohabited their price.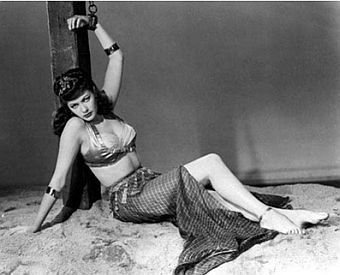 Islam: Wife or bondswoman
APPROACH HER IN ANY WAY YOU WANT
A wife has no say in the way the husband approaches her for enjoyment.
Prophet said (Bukhari: Volume 7, Book 62, Number 81): "you are given the right to enjoy the women's private parts".
Q 2.223: Your women are a tilth for you, so go to your tilth (have sexual relations in any manners), when or how you will. (trs. Hilali & Khan)
WIVES CAN BE DUMPED AT WILL   
Like a client can dump a whore at will and pick up another one, the Quran says a husband can dump his wife and get another one.
Q 4.20. If you want to exchange one wife for another than don't take back  any part of what you paid her.
Hadiths say that Hasan Bin Ali, Prophet Mohammad's beloved grand son, who died young, went through more than 70 wives in his short life.
Women are tilth for men: approach her as you wish
The husband is like a client of a whore. Once a wife is paid Mahr she is obliged to submit her private parts 24/7 to him.
WHORES CAN DUMP A CLIENT, MUSLIM WIVES CANNOT DUMP HER HUSBAND
If a whore changes her mind and does not want sex she can. She can return the money and kick him out. However, in Islam a wife does not have that liberty. Once the Mahr is paid her vagina is his to enjoy. She must submit to him any time he gets an urge.
Ibn Majah 1854: "Prophet said if he asks her to surrender herself to him for sexual intercourse on a camel's back, she should not refuse him even on a camel's saddle."
However in our prophet's case, whenever he had a huge urge (erection) and his child-wife got scared and ran away during foreplay, he had to catch her, bribe her with a new doll and drag her back to bed.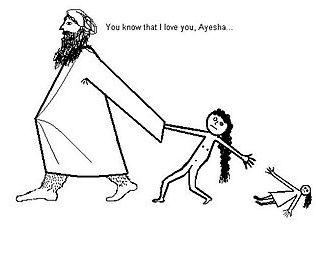 Muhammad & Aisha: Marriage or child sex abuse?
SAYING NO COSTS ISLAMIC WIVES WHIPPING AND DIVINE CURSING
If a wife refuses sex to a husband Allah ordered husbands to give her a good whipping.
Quran 4.34: Scourge (whip) your wife if she does not obey.
And ordered angels to curse her all night.
Bukhari 4.54.460: "If a husband calls his wife to his bed  for sex  and if she , he angels will curse her till morning".
A WHIPPED WIFE MUST BE PUT ON AN INJURED LIST
Once a wife is whipped badly, she cannot lie down and have sex without severe pain, seriously limiting the ways a husband can approach her  thus violating aya 2.223. Our prophet told the momins to postpone sex with her.
Bukhari Volume 7, Book 62, Number 132:
The Prophet said, "When you  flog  your  wife  like   you flog your slave  then postpone the  sexual intercourse."
VAGINA CONTRACTS
OPEN-ENDED CONTRACT (REGULAR WIFE)
A n open ended contract is signed for a negotiated price for an undetermined period. In addition wife gets boarding lodging and clothing. However if  the husband  decides to dump her, he can  break the contract verbally and kick her out (4.20) any time he wants to but he cannot get any money back he paid for her vagina even if he used it for five minutes.
Q 4.20: if you replace a wife by another, you cannot get any part of Mahr back even if it was a large sum.
A broken contract cannot be renewed until the her vagina is used by another momin and is then released (halala).
Q 2.230: And if he has divorced her, then she is not lawful unto him thereafter until she has sex with another husband. And if he has divorced her then she is not lawful unto him thereafter until she has married another husband. Then, if the other husband divorces her, it is no sin on both of them that they reunite.

Female slaves are for sex & enjoyment in Islam
On the other hand a wife has no right to break a contract similarly. She can only break it if she can prove him to be impotent or insane in a court of law.
SHORT-TERM CONTRACT or MUTA WIFE
A man can sign a contract with a woman to use her vagina  for a pre-determined period  at  negotiated price.
The contract can be renewed without the requirement of interim use of her vagina by another man.
 VISITATION CONTRACT (MISYAR WIFE)
In this contract a husband visits a misyar wife for sexual pleasure and pays her for each visit. The husband does not have to provide her boarding and lodging.
WAYS TO ACQUIRE SLAVE GIRLS
A slave girl doesn't get paid Mahr for her vagina. She is acquired as a free gift (Maria was a free gift for Prophet from Egyptian king), bought from another owner (sometimes prophet took away pretty girls for free from their owners*) or captured after killing her father or husband (prophet took 20% of the captured women from a raid booty).
Sahih Muslim, Book 019, Number 4345:
It has been narrated on the authority of Salama (b. al-Akwa') who said: We fought against the Fazara and Abu Bakr was the commander over us. Abu Bakr bestowed a young girl upon me as a prize. She was one of the prettiest girls in Arabia. So we arrived in Medina. I had not yet disrobed her (had not have sex with her) when the Messenger of Allah (may peace be upon him) met me in the street and said: Give me that girl, O Salama. I said: Messenger of Allah, she has fascinated me. I had not yet disrobed her. When on the next day, the Messenger of Allah (may peace be upon him) met me again in the street (Salama was parading the young beauty to make other jihadis jealous). Prophet said: O Salama, give me that girl, may God bless your father. I said: She is for you. Messenger of Allah! By Allah, I have not yet disrobed her.
SLAVE GIRLS ARE THE BEST BARGAINS IN ISLAM
Quranic ayas 4.3, 4.24, 23.6, 33.50 & 70.30 allow a Muslim man to have sex with slave girls. A slave girl can be bought or acquired by killing infidels and capturing their wives and daughters.
Slave girls are the best bargain Islam has to offer to Muslim men but unfortunately Muslims are denying themselves this great reward from Allah just to appease infidel west. The uses of a slave-girl are:
1.  They provide sex 24/7.
2. They are used as house maid
3. Offered as sex partners to overnight house guests.
4. Offered as gifts to family and friends for a few days or for good*.
(*The History of Tabari, vol 8, pge 29-30: From his share of captive women, prophet gave his son-in-law, Ali a slave girl, Raytah bt Hilal to enjoy her at his will. He also presented Uthman b. Affan, his son-in-law, another slave girl Zainab b. Hayan, and bestowed another girl (name unknown) to his father in-law Omar Ibn Khattab. Omar gave that girl to his son Abdullah. Most of Prophet's other elite companions received slave girls as gifts).
5. Sold to raise cash, if the need be.
Sex-slave examined by momin Muslim buyer
SLAVE GIRLS ARE INCOME PROPERTIES
Islam is the only religion which allows momins to pimp the bodies of their slave girls for side incomes. Thus Quran taught 1400 years back what modern day pimps are learning now, that is to control many prostitutes and get rich on their income.
However Islam is a very compassionate religion. While many pimps force their prostitutes to sell their bodies, Islam prefers that momins avoid coercion.
Q 24.33. Do not compel your slave girls to prostitution to drive income from her body if they are not willing.
But of course Allah is a forgiving God. In case momins do beat them up and force them to prostitute, Allah said he will forgive them.
Q 24.33. (continued) But if you did force her to prostitute Allah can forgive you because he is forgiving and compassionate.