Obama turns out to be an "my Muslim faith" loving, azan loving (he said azan is the most melodious sound in the world), praying-to-Allah-in-the-White-House president of America, financed by Middle East oil money, who intended to bring millions of Muslims to the USA.
---
Cynics have claimed much about Barrack Hussein Obama being a Muslim American president. If it were true, Kuffar Americans' voting a Black Muslim as their president will be akin to Egyptians' electing an orthodox Jew as their president or Pakistanis electing a communal Hindu as their president, which would be nothing less than a miracle.
Are the cynics right about Obama's Muslimness? Whatever is true, Obama turns out to be an azan-loving president of America (he said azan is the most melodious sound in the world), financed by Middle East oil money, who has done his bit to Islamize America, and bring in sharia and millions of Muslims.
Allah says in the Quran:
3.54: Allah schemes and he is the best of schemers.
It seems Allah's claim to be best schemer is not only true, but also his best plotting might be behind Obama's rise to American presidency? How else would Americans be in the dark about Obama's real intention and elect him to the White House? Well, see what Allah says in Quran.
6.25: Allah prevents unbelievers from knowing the truth by casting veils on their hearts.
6.110: Allah turns their hearts and eyes to confuse them.
Vo laaa! Allah's worked his tricks and an Islam-loving, born-Muslim Black man became the president of Kuffar America.
What is the reaction of Muslim umma?
Shia Muslims think that Obama is the promised "Mehdi", who was hiding in a well in Iran for 1200 years. Sunni Muslims think that he is the promised "Masiha", who will deliver them. Both think that Allah put Obama in oval office as a first step towards bringing the whole world under an Islamic caliphate. Let's see what Obama did in his presidency.
OBAMA PROMISED A CHANGE; YOU GET IT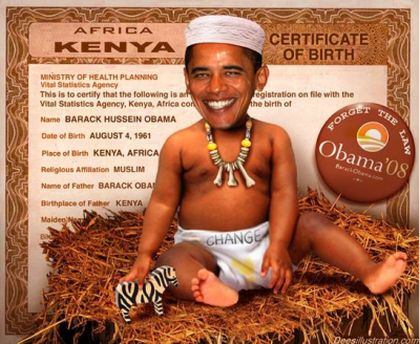 Religious affiliation: "Muslim"
OBAMA: "I AM A MUSLIM" & "AMERICA IS ONE OF LARGEST ISLAMIC COUNTRY IN THE WORLD"
OBAMA BROUGHT ISLAM TO WHITE HOUSE BY HIRING 47 MUSLIMS AS HIS STAFFS
OBAMA PRAYS TO ALLAH IN THE WHITE HOUSE
OBAMA'S VERY FIRST OVERSEAS VISIT WAS TO AN ISLAMIC COUNTRY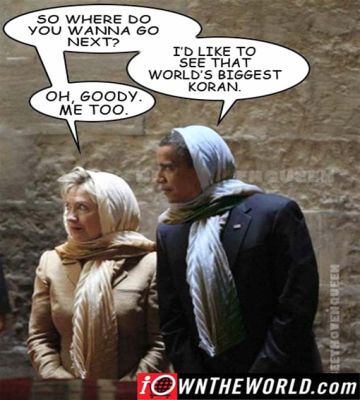 OBAMA WORKED HARD TO IMPROVE IMAGE OF MUSLIMS IN AMERICA
OBAMA LET THE ISLAM-UNFRIENDLY FOX NEWS KNOW HIS HURT FEELINGS
OBAMA KISSED THE PARTS OF THE MUSLIM KINGS WHERE THE SUN DOES NOT SHINE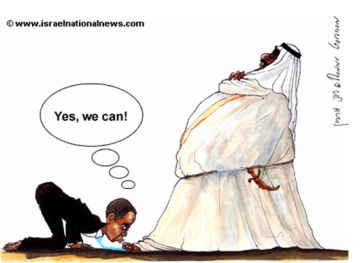 MUSLIM BROTHERHOOD, OBAMA'S FRIENDS, WHO WANT TO CONQUER THE WHOLE WORLD UNDER ISLAMIC CALIPHATE
OBAMA EXTENDED HAND OF FRIENDSHIP TO IRAN, WHICH CALLS US GREAT SATAN AND WANTS TO ANNIHILATE US
AL-QAEDA MEMBERS -- OBAMA'S WHITE HOUSE GUESTS
OBAMA STARTED BRINGING IN SHIPLOADS OF MUSLIMS FROM TERRORIST ISLAMIC COUNTRIES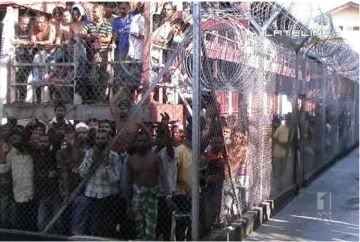 OBAMA INVITED MUSLIMS TO JOIN AMERICAN SPACE PROGRAM, NASA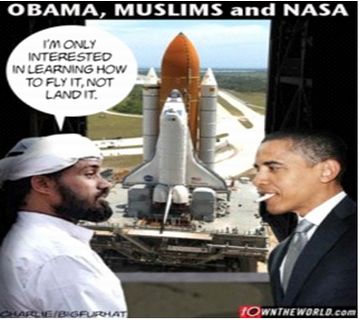 OBAMA MADE ALL MUSLIMS INCLUDING JAILED TERRORISTS FEEL LOVED
OBAMA HOLDS ISRAEL DOWN SO THAT IRAN CAN ANNIHILATE IT
OBAMA APOLOGIZED TO MUSLIMS FOR AMERIC'S PAST
OBAMA APOLOGIOZED TO AFGHANS FOR QURAN BURNING
OBAMA APOLOGIZED TO MUSLIM UMMA FOR THE DEATH OF 9/11 ARAB-MUSLIM TERRORISTS
---
Note: this article is a "satire".