A few instances of famous Indian Hindus, from Bollywood stars to leading politicians, who converted to Islam having fallen victim to Islamic love-trap or to practice polygamy...
---
A few other Instances of Hindu Men and Women Marrying Muslims
The daughter of Sheila Dixit, a Brahmin, married a Muslim after converting to Islam.

The niece of L K Advani, a Sindhi Brahmin, married a Muslim. Advani attended the marriage ceremony.

Aditi Govitrikar was a Hindu, married Muslim, after converting her to Islam and adopted the new Muslim name Sarah but keeps her Hindu name for her TV stuff.

Suhasini, the daughter of Subramanian Swamy, married a Muslim, the son of Salman Haidar, and now known as Suhasini Haidar.

Amrita Singh married Saif Ali Khan, son of Mansur Ali Khan and Sharmila Tagore, after converting to Islam. After having two children out of her, Saif divorced her and is now engaged in a romantic affair with another Hindu girl Kareena Kapoor.

The Bollywood actress Rina Roy married the Pakistani cricketer Mohsin Khan.

Another Hindu girl Ratna Pathak married Bollywood actor Nasiruddin Shah.

It has been mentioned that both Shahrukh Khan and Amir Khan, the Bollywood stars, seduced Hindu girls and married them after conversion.

One should recall that Salim Khan, the father of Salman Khan, married a Hindu woman after conversion.

The current wife of Sanjay Dutt, son of Sunil Dutt and Nargis, converted to Islam to marry her earlier Muslim husband.

Since Hindu Marriage Act does not allow polygamy, Bollywood stars Dharmendra and Hema Malini had to convert to Islam to marry, as Dharmendra was already married to his first wife Prakash Kaur.

It should also be mentioned here that Kishor Kumar had to convert to Islam to marry Bollywood star Madhubala.

Hritik Roshan married Suzanne Khan, daughter of Sanjay/Feroze Khan (?).

Feroz Khan's daughter Laila married Rohit Rajpal.

Sanjay Khan's daughter Simone married to Ajay Arora. Atul Agnihotri married Alvira Khan, the sister of Salman Khan.

Manoj Bajpai married Shabana Raza now called Neha. Pankaj Kapoor married Neelima Azeem; their son is Shahid Kapoor.

Saroj Khan, a Hindu Sindhi, married second time to a Muslim man.
The Hindus, for Muslims, are very soft targets for conversion; Muslims at all levels of the society trap them in love and make them embrace Islam before marrying them.
When such interreligious relationship occurs between Muslims and Christians, the story is quite different. For an example Laila Dais, daughter of A. L. Dais ---a Christian and the Governor of West Bengal (1971-1979), fell victim to love-trap of a Muslim guy, named Jahid Ali, in 1974. When the affair came to surface and Laila expressed her desire to marry her Muslim lover, Mr. Dais summoned the boy in his house and had him converted from Islam to Christianity on May 16, 1974 by a priest in the presence of Siddhartha Sankar Roy, the then chief minister of West Bengal, his wife Maya Roy and many other dignitaries. On that day, the engagement ceremony was completed through the exchange of rings. About 3 weeks later, on June 8, Laila was married to the converted Jahid Ali in the Saint Thomas Church, on the Middleton Row, Kolkata, following Christian rites. The incident showed that Christians are not so soft a target as Hindus for Muslim love-Jihad.
Muslim clerics, to fool the non-Muslim kafirs, occasionally try to propagate the idea that, only the poor, uneducated or illiterate Muslims use the oral divorce or triple talaq (utterance 'talaq' thrice) to divorce their wives. But the facts are otherwise. Ahmed Khan, a highly educated, well-off and renowned advocate, after 50 years of his married, divorced his wife Shah Bano, a 62 year-old woman and mother of 5 children, without any alimony, to marry a 20-year-old young girl. The incident created considerable debate and controversy about the extent of having different civil codes for different religions, especially for Muslims in India. This case caused the union government, with its absolute majority, to pass the Muslim Women (Protection of Rights on Divorce) Act, 1986, which diluted the secular judgment of the Supreme Court (that ordered Shah Bano's husband to pay alimony to her) and, in reality the Protection of Rights on Divorce Act, 1986, denied even utterly destitute Muslim divorcees the right to alimony from their former husbands.
There are several instances where educated and well-off Muslims divorced their wives to marry younger and more-charming women. Muhammad Azharuddin, the famous cricketer and long-serving captain of the Indian cricket team, divorced his first wife Naureen, with whom he had two sons, to marry the Bollywood actress Sangita Bijlani. Saif Ali Khan, a Bollywood actor, a model and son of Mansur Ali Khan (Pataudi) and Ayesha Sultana (Sharmila Tagore), married the actress Amrita Singh in October 1991. After thirteen years of marriage and two children, Saif Ali divorced Amrita Singh in 2004. His children now live with their mother. Saif Ali Khan is currently engaged in romantic courtship with another Bollywood actress Kareena Kapoor.
Jinnah's Marriage to Ratanbai, a Parsi
It should be mentioned at the very outset that each and Muslims---whether a king, or a beggar, or a religious cleric, or Sufi fakir, or a civilian---are, following their prophet's example, womanizer by nature, and Jinnah was not out of the fold. The family of Jinnah had converted to Islam in the recent past. His grandfather was Poonja Gokuldas Meghji, a Hindu Bhatia Rajput from the Paneli village in Gondal state in Kathiwar (Gujarat, India). After conversion, Jinnah's family belonged to the Ismaili Khoja sect of Shi'a Islam, though Jinnah, later on, converted to Twelver Shi'a Islam. It is being said that Jinnah never performed namaz (prayer) and roja (Ramadan fasting); wine and roasted pork, strictly forbidden in Islam, were his most delicious food items. The presence of these two items on his dining table was mandatory. He extremely despised the other converted Muslims of India. Only in one occasion, he touched the Koran: during the oath-taking ceremony after he was elected to the Bombay Assembly.
His father Jinnabhai Poonja was a prosperous merchant, who married a Hindu (?) woman, named Mithibai. His father later on moved to Karachi in Pakistan before Jinnah's birth. He was the eldest of seven children of Mithibai and Jinnabhai.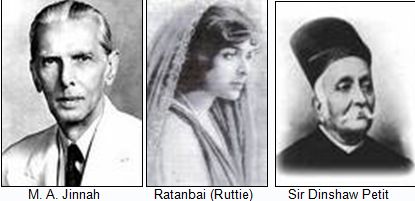 Sir Dinshaw Petit, a Parsi and a rich merchant of Mumbai, was a friend of Jinnah. In 1916, Jinnah, a widower of 40, took shelter in the house of Sir Dinshaw for taking rest and regaining health. Sir Dinshaw had an extremely charming 16-year-old daughter called Ratanbai, nick-named Ruttie. At the first sight, Jinnah decided that he must seduce this pretty girl, who was more or less like his daughter. One day, while chatting with Sir Dinshaw, Jinnah asked his opinion about interreligious marriage. Sir Dinshaw failed to grasp the real intention of Jinnah and replied that he was in favour of such marriages as it may help make a bridge between various religious communities in the country. All on a sudden, Jinnah said, "I want to marry your daughter Ruttie." The proposal made Dinshaw terribly upset, and said that he was not ready to give Ruttie to him in marriage. Meanwhile, Jinnah had succeeded in seducing Ruttie, and they decided to marry. To arrest the marriage, Sir Dinshaw went to court.
Meanwhile, Ruttie attained the age of 18, and hence court could not prevent the marriage. On 19th April, 1918, Jinnah married Ruttie, of course after converting her to Islam. However, Ratanbai's marriage to Jinnah soon turned extremely unhappy and ended in tragedy. Ratanbia left Jinnah and lived alone for long time before committing suicide in the Taj Mahal Hotel in Bombay, about a decade after tying the knot with Jinnah.
Meanwhile Ruttie bore a female child, named Dina, to Jinnah on 14th August, 1919. And crisis also appeared when a grown-up Dina wanted to marry a Parsi young man called Neville Wadia.
Neville Ness Wadia was a Mumbai businessman, philanthropist and a member of the renowned Wadia family. It was an old and affluent family which, by the 1840's, was one of the leading forces in the Indian shipbuilding industry and built over a hundred warships for the British and established a trading network around the world... Although he was born a Parsi, his father renounced the Zoroastrian faith and converted to Christianity. Wadia converted from Christianity to Zoroastrianism again later in life. During the late 19th century, his father played an important role in turning the city of Mumbai into one of the world's largest cotton trading centres. In 1952, Neville Waida succeeded his father as chairman of the famous textile firm, Bombay Dyeing. Under his leadership, the company became one of India's most successful and quality-conscious textile concerns.
When Dina expressed his desire to marry Neville, the toughest opposition came from her father Jinnah. He asked his daughter – "Why are you going to marry a Pari boy, while there are so many nice Muslim guys in this country?" Dina replied, "Why did you run after a Parsi girl, despite there were many pretty Muslim girls in the country?" Obviously, he failed to give reply to that question of Dina.
Criminals and perverts embrace Islam for polygamy, wife-beating and easy divorce
As a matter of fact, Islam is an asylum of criminals. Muhammad founded his faith, based on criminality, that included robbing highway caravan, looting and plundering non-Muslim communities, and mass extermination of non-Muslims in order to acquire their wealth as well as women and children as booty. And, quite naturally, the Islamic umma, on evidence, are the biggest criminal gang on earth today. Natural, the criminals and people with a criminal bend of mind find a comfortable place in Islam. Ayesha Ahmed has highlighted this point in her recent article, Violent, Hateful Misfits get attracted by Islam.
Based on Muhammad's example and quranic dicta, Islam legalizes all sorts of illegal and criminal acts. As a result, Islam is a means of turning black money white, albeit divinely commands.
Do you want to keep more than one wife? Then become a Muslim.

Do you want to drive out your existing wife and bring a new and younger one? Then become a Muslim.

Do you want to marry a child? Then become a Muslim.

Do you want to nseduce the wife of your neighbor? Then become a Muslim (Muhammad seduced Zainab, the wife of his son).

Do you want to rape a certain kind of women? Then become a Muslim.
Such list may keep going on.
Bollywood actor Dharmendra embraced Islam to practise polygamy:
In India, according to existing Hindu Marriage Act, it is crime to keep more than one wife. Hence, Mumbai film-star Dhrmandra and Hema Malini had to embrace Islam to be able to practise polygamy.
Famous Bengali Singer and politician Suman converts to practise polygamy: The case of singer-politician Suman's conversion to Islam and marriage to Bangladeshi singer Sabina Yasmin has been discussed in the previous article. His conversion, as it appears, was motivated by his pervert desire to practise polygamy. In an interview that appeared in the September 2, 2007 edition of The Telegraph, a Calcutta based English daily, he said: "I am a polygamous man. Maybe I'm still searching for love".
Suman married five times. But he says that he doesn't believe in the institution of marriage. "Marriage is another form of bondage", he said. He converted to Islam to marry the Bangladeshi singer Sabina Yasmin without having decree of divorce from his fourth wife, a Christian woman. According to the said press report, Suman committed a crime by suppressing facts during filing his nomination papers as a candidate for contesting election in the Lok Sabha (Parliament) election last year. It is mandatory for a candidate to declare the assets of his wife. Suman did not disclose the asset of his present wife Sabina Yasmin. As per the allegations, Suman's wife, Sabina, is a famous Bangladeshi singer, who must have huge property. "Some evidence has been unearthed, on the basis of which proceedings against Suman are likely to start soon," says an observer.
If the charges are proved correct, Suman may be held guilty of violating Section 125A of the Representation of People Act as well as Section 177 of the Indian Penal Code and Section 195 of the Code of Criminal Procedure. The maximum punishment for such violation is fine and/or imprisonment for up to six months.
Suman used to oppress and torture his ex-wife Maria. "She made me a father," he grins. On the basis of these allegations, a criminal case is pending against him in Jadavpur police station. It also alleged that "He has not mentioned details of this criminal case against him for torturing his former wife", says Khalil Ahmed, district magistrate, South 24-Parganas.
Haryana Deputy Chief Minister Chandra Mohan Bishnoi converted to practise polygamy: Similar is the case with Chandra Mohan Bishnoi, the Deputy Chief Minister of Haryana and the son of Bhajanlal, the ex-Chief Minister of the same state. He had an extra-marital affair with a woman, named Anuradha Bali. To marry her, without divorcing his existing wife, both Chandra Mohan and Anuradha Bali embraced Islam. Thus Chandra Mohan became Chand Mohammad and Anuradha became Fiza. This conversion made father Bhajanlal furious, and he publicly disowned his son Chandra Mohan.
The Story of Rizwanur Rahman and Priyanka Todi
The interreligious marriage that aroused much hue and cry in recent past was the marriage between Rizwanur Rahman and Priyanka Todi, the daughter of a businessman Asoke Todi. Rizwan, a 22 year-old Muslim young man was an English honours graduate, and running a computer training school and Priyanka Todi enrolled her in that school as a student. Gradually, Priyanka became a victim of Rizwanur's love-trap and decided to marry him. Finally, they got under the Special Marriage Act 1956 on August 18, 2007. On August 31, Priyanka left her father Asoke Todi's mansion in Salt Lake City, Kolkata to live with Rizwan's family. Hosiery industrialist Todi, who belonged to a conservative Marwari family, did not approve of the marriage with a Muslim boy, who was, moreover, a commoner. He considered it a shame on his family, and tried hard to persuade his daughter to return home, but failed. On September 1, both Rizwan and Priyanka were summoned to the Lal Bazar police headquarters and senior police officer asked Priyanka to return to her father's house, but she refused. Meanwhile, the relatives of Todi were said to have threatened Rizwanur to disown Priyanka or face dire consequences. On September 7, Javed Ahmed, the Trinamool Congress MLA, asked Priyanka to return to her home, but she refused. The couple was summoned again to Lal Bazar Police HQ again on September 8, and Priyanka was told to return her paternal house and otherwise Rizwan would be arrested on kidnap charges. This time, she agreed and returned her father's house. But Rizwan complained that the Todi family had confined his wife in a room under lock and key.
Meanwhile Rizwan met Sujato Bhadra, the chief of APDR (Association for Protection of Democratic Rights) and fixed an appointment with the police headquarters a few hours later on the same day. But 15 minuted after his meeting with Sujato Bhadra, Rizwan's dead body was found by the railway tracks near the Patipukur area. Two days later, the police chief Prasun Mukherji told a press conference that Rizwan had committed suicide. On the next day, the Chief Minister Buddhadeb Bhattacharya asked CID to inquire into the matter. On October 4, CID submitted its interim report that also said that Rizwan had committed suicide. On October 16, Calcutta High Court called CID report illegal and ordered a CBI investigation for the case.
The investigations also revealed that Asoke Todi gave Rs. 500,000 to the kin of Rizwan to persuade him to disown or divorce Priyanka, and this development made the relatives of Rizwan to withdraw their support and led utterly frustrated Rizwan to commit suicide.
As the matter is still under the jurisdiction of the court of law, one cannot say whether it is a case of murder or suicide. While talking to journalists, Mr. Hazrat S M Nurul Rehman Barkati, the Imam of the Tipu Sultan Mosque in Kolkata, declared it to be a murder and expressed his apprehension that the Rastriya Swamsevak Sangha (RSS) is involved in the crime. But it seems more probable to have a hand of the Islamist terrorist groups in the affair. In a letter written by Rizwanur to an NGO, a copy of which is with the local Trinamul Congress MLA, Javed Khan, Rizwan has been reported to have expressed his decision to desert Islam and embrace Hinduism. In fact, Javed Khan was acting as a mediator between Rizwanur and Ashok Todi, the father of Priyanka.
In this context, one should recall that, according Shariah law, it is the gravest sin for a Muslim to abandon Islam to embrace another religion, which deserves mandatory death.
---
Acknowledgement: Many of the facts narrated above, have been taken from "The Silent Terror" (in Bengali) by Rabindranath Datta.